This product is listed here: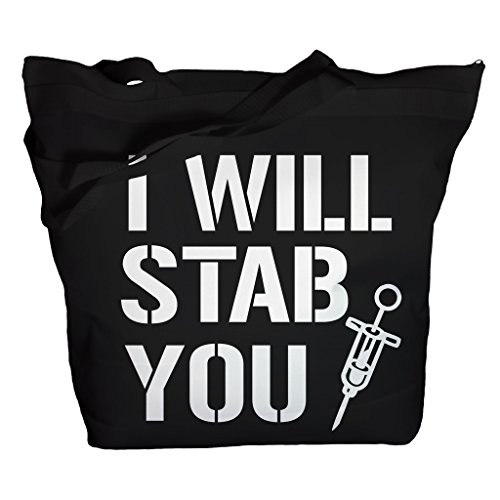 Shirts By Sarah Tote Bag Funny Nursing Bags
Shopping for a nurse? You've found the perfect gift- as long he or she has got a sense of humor! This tote bag with the phrase 'I will stab you' is certainly bold, but is sure to many any nurse or nursing student laugh! Complete with an image of a syringe, anyone in healthcare will absolutely love the dark humor that this bag has.
Best of all, this is a sturdy tote bag that any busy nurse or nursing student will get a lot of use out of carrying all their supplies or textbooks from place to place. Being a nurse, or studying to be one, is stressful! This bag can provide much needed comedic relief and is sure to have him or her chuckling all day long.
Detailed information about Shirts By Sarah Tote Bag Funny Nursing Bags
Choose from 4 different color combinations - a black bag with white lettering, a black bag with pink lettering, a navy bag with white lettering, or a purple bag with white lettering. Depending on the nurses style, or even the school they are attending, you can choose the perfect bag for them.
Are you shopping for the perfect gift for your son, daughter, or grandchild who is graduating nursing school? This is such a wonderful achievement and is cause for celebration! This tote bag makes for a wonderful graduation present that is sure to bring them even more joy and laughter on their big day!