This product is listed here: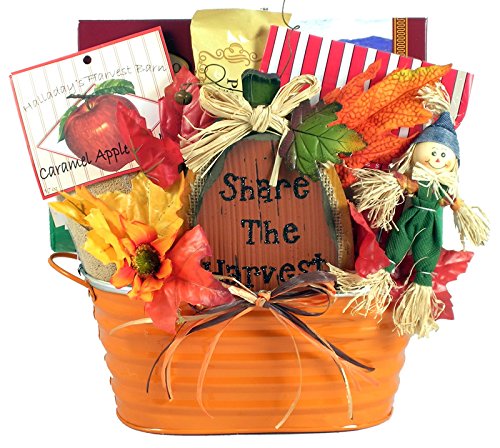 The Perfect Pumpkin Planter Halloween Basket
This decorative and seasonal fall planter is filled with fun gifts for celebrating Halloween and all things autumn this fall.
This gift collection that celebrates the harvest season is sure to bring a smile to their face.
Who wouldn't love to receive this Halloween gift overflowing with the colors and tastes of the season?
This reusable tin is filled with such delights as caramel apple dip mix, chocolate layered wafers, peanut crunch bar, peanut brittle and more!
Detailed information about The Perfect Pumpkin Planter Halloween Basket
Each of these delicious sweets is a perfect Halloween treat for the adult who still craves a taste of Halloween and past childhood treats when October rolls around.
There is also an adorable scarecrow on a pick who is ready, willing and able to protect any potted plant in the house.
The Halloween treat basket is also festooned with other various seasonal harvest decorations that will brighten up even the gloomiest day.
When the goodies are eaten and the decorations displayed, the sturdy tin can be reused as a planter for some favorite autumn plants.
Any fall flower would look perfect for use as seasonal décor when they are featured in this fall-inspired tin. Imagine yellow and orange mums displayed in this brightly hued planter!
WHY WE LIKE IT?
Filled with festive fall goodies sure to make the season a bit more beautiful and a whole lot tastier
The brightly colored tin is reusable and has many uses
Gift includes a personalized message for the recipient
WHY WE dont LIKE IT?
None
What we love about this product
Along with the cornucopia of treats that abound in this brightly colored tin, there is also a wooden pumpkin decoration with "Share the Harvest" decoratively painted on it, perfect for hanging in any room to celebrate the season.