This product is listed here: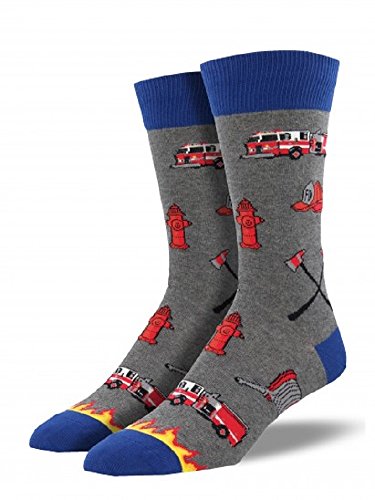 Socksmith Mens' Novelty Crew Socks "Firefighter"
When choosing a gift, nothing is too small to impress your loved ones. Whether you select tiny pieces of jewelry or a simple scarf, they will still appreciate the effort. Well, most people find socks as gross gift items but forget that they are items men and even women need almost every day.
It even gets better when they are customized to resonate with the recipient's occupation or interests. For firefighters, this impressive pair of socks will make their day. You can get some for the firefighters in your life and appreciate them on their special day.
Detailed information about Socksmith Mens' Novelty Crew Socks "Firefighter"
The design of these socks is something to laugh about. The socks carry prints of firefighting equipment with the toe section featuring fire-like prints. They come in a heather grey color plus patches of blue at the toes and the band. They are indeed colorful and an accurate representation of the life of a firefighter.
The quality of this pair is unquestionable. The socks are made of 70 % cotton, 27 % nylon, and 3 % Lycra. All these materials ensure the socks last long while withstanding frequent wear and washing. Also, they are soft and comfortable to wear every other day. Different sizes are available for you to choose. Also, the band area has sturdy elastic to hold up well all day.