This product is listed here: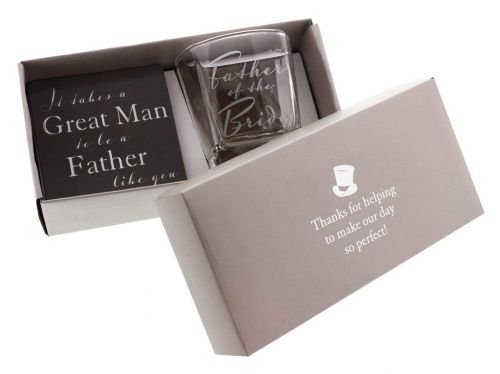 Whiskey Glass and Coaster Gift Set By Haysom Interiors
Sometimes it feels impossible to shop for a man who has or had it all – our dads. We would think he can probably afford to buy whatever he likes which leaves us racking our brains to come up with something.
It is usually much harder to get him a gift on your big day – also known as your wedding day – since you don't want to give him the usual, run off the mill gift to commemorate it. But we know our dads better than anyone does, and if there is one thing we know he likes, it is whiskey.
Whether he is an occasional social drinker or a whiskey connoisseur, he will surely appreciate the 'Whiskey Glass and Coaster Set' specifically made for the Father of the Bride.
Detailed information about Whiskey Glass and Coaster Gift Set By Haysom Interiors
This present is a great gift to give because he will have a physical memory of your wedding day. The 'Father of the Bride' Whiskey Glass and Coaster set is the ultimate gift for the dad who is simply the best in the world.
This gift set is encased in a classy, sophisticated box with the beautiful message 'Thanks for helping to make our day so perfect!' imprinted on the cover.
WHY WE LIKE IT?
Superb quality and packaging looks sophisticated
Whiskey glass and coaster is adorned with sweet messages for your dad
Dishwasher safe and is the perfect size for the usual serving of whiskey
WHY WE dont LIKE IT?
None
What we love about this product
The high-quality whiskey glass has 'Father of the Bride' printed on it and the coaster has the heartwarming message "It takes a great man to be a father like you" which will surely melt your dad's heart.