This product is listed here: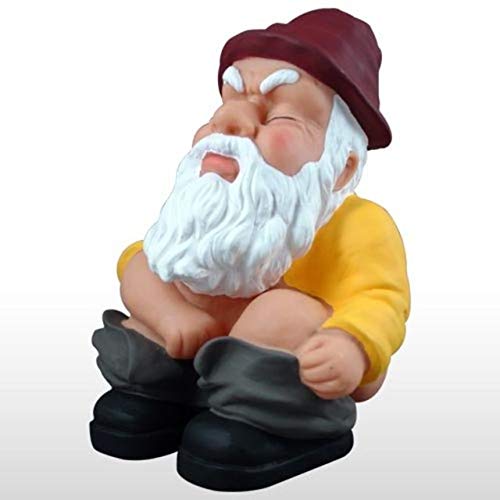 Squatting Garden Gnome
Everyone loves a garden gnome, you know the type of thing we mean. He sits on a toadstool or is fishing in the pond or even pushing along a jolly little wheelbarrow.
Whatever the dear little chap is doing, he livens up anyone's garden or backyard so much that some people are addicted to the funny little things.
Let's face it, there is a certain type of person who enjoys cluttering up their garden with lots of model garden gnomes doing the kind of thing that model garden gnomes do.
Do you think however that this garden gnomey kind of person has ever seen one taking a dump? The dear little fellow can be put in the corner of the lawn along with Bambi nearby to Snoozey and Grumpy and slightly hidden behind the rhododendron bush.
If you look carefully you can see him squatting down behind a leaf for privacy while doing his business.
Detailed information about Squatting Garden Gnome
The squatting garden gnome measured 9.5" high and is about 6" diameter. The expression on his little face is classic and cannot be beaten.
This is the perfect gift for anyone who has a garden or a lawn and wants something unusual to highlight the place as well as having an excuse for starting to collect garden gnomes.
WHY WE LIKE IT?
Brightly colored little garden gnome
His eyes are tightly shut while he is answering a call of nature
Just about the correct size to fit in well with the other garden gnomes
WHY WE dont LIKE IT?
None
What we love about this product
He has excellently made features on his face and his rear end isn't bad either. He is made from a type of hard rubbery plastic and is hollow so he isn't too heavy.
This little guy is really cute but we can think of many things cuter than a garden gnome relieving himself at the edge of the lawn! What will the neighbors say?