This product is listed here: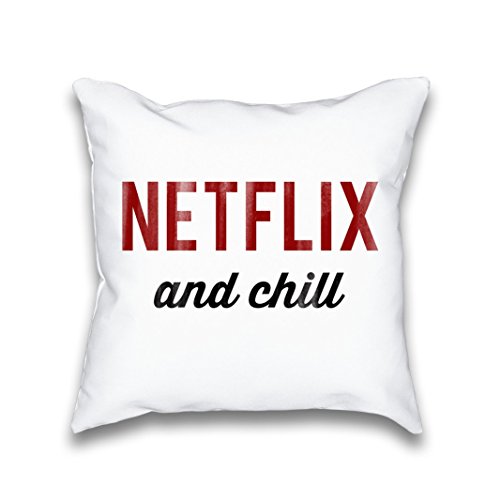 Netflix and Chill Typography Throw Pillow
Among your family members or circle of friends, there is always that one person who would rather stay in, chill on their favorite couch, cover themselves with a throw over, and binge watch their favorite shows. We are talking about the student in your life. It's not a secret that this bunch loves Netflix and fits the above description.
Here is something to make their weekends in extra comfortable and more relaxed. They can catch up on the next episode of Orange Is New Black while comfortably resting on this typography throw pillow by Ava Wilde.
Detailed information about Netflix and Chill Typography Throw Pillow
You can purchase the pillow with stuffing, or if the recipient has pillows in excess, you can get this product as pillowcases only. Both options are equally good and are made from a blend of cotton material with a concealed zipper. As expected the pillow is soft to touch and will provide ultimate comfort.
It features beautiful artwork, printed on both sides to read "Netflix and Chill." A nice way to chill on the weekend in the comfort of your home resting on Netflix themed pillow binge-watching the latest shows and movies.
WHY WE LIKE IT?
A classic style throw pillow showcasing Netflix theme
Available with insert stuffing or as pillowcase only
Features a beautiful topography
Made of high-quality material and hand printed for an extra personal touch
WHY WE dont LIKE IT?
None
What we love about this product
This is a high-quality typography throw pillow designed to fill one's favorite couch with comfort and personality. Cut and sewn in L.A, this pillow is specially hand printed locally by talented designers using state of the equipment. The quality is exceptional purposely designed for ultimate comfort to enhance your stay indoors.