This product is listed here: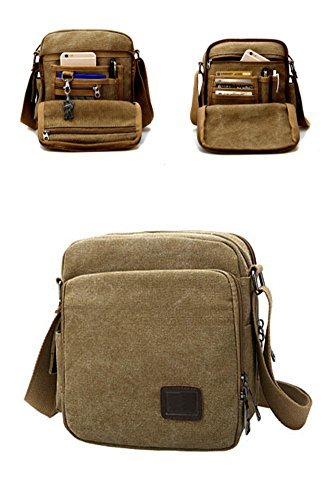 Multi-Pocket Messanger Handbag
Think of essential personal items anyone would need while on the go such as cellphone, iPad, battery charger, earphones, cables, sunglasses, wallet, credit cards, umbrella, pens, keys and so on. All these all small items but quite necessary when getting out of the house or traveling. The problem is, they tend to get lost at the bottomless pit of a bag or backpack, and it can be quite a hassle to fish something as small as a pen out of a big bag.
Even with all those organizer pockets, this bag features a simple design and its quite stylish. It's useful and practical for everyday use since it can practically carry everything needed while out there.
Detailed information about Multi-Pocket Messanger Handbag
Whether one is going out for casual shopping, outdoor traveling, site seeing, class, party or simple engagement, this messenger bag will have them covered with every essential item without feeling bulky.
It is made of canvas material. It is strong and has a sturdy construction making it quite durable. It even has an adjustable shoulder strap which makes it super easy to carry and walk around with without straining and convenient enough to reach for the contents inside.
WHY WE LIKE IT?
Made of canvas material
It has a sturdy construction
It's durable
Designed with lots of pockets for better organization
It has an adjustable shoulder strap
Available in different colors and sizes
WHY WE dont LIKE IT?
None
What we love about this product
This small messenger bag is well compartmentalized with one main room, 5 pockets, a key ring at the front and 7 other pockets at the backside. Everything is designed to make sure whatever goes inside stays in place and well organized making it pretty easy to find everything conveniently.