This product is listed here: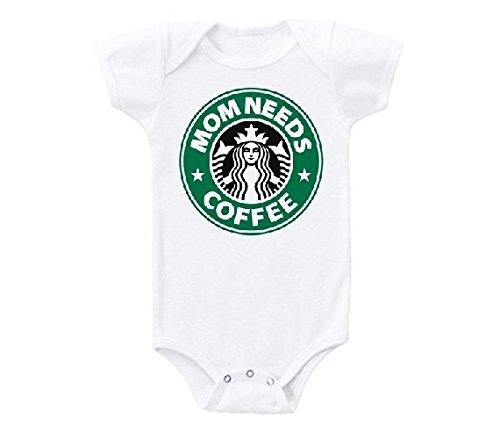 'Mom Needs Coffee' Baby Onesie Novelty T-Shirt
Almost each and every mother of a newborn knows that without coffee, the job of parenting would be impossible indeed.
This adorable little onesie features the famously recognizable two-tailed Starbucks Siren and states in no uncertain terms that "Mom needs Coffee".
The onesie would make a great Starbucks inspired gift for the mom who loves her caffeine.
The soft and cuddly 100% cotton T-shirt onesie is not only cute but brutally honest and funny too.
New moms need all of the help they can get, not to mention all of the super-fueled high octane coffee possible.
Detailed information about 'Mom Needs Coffee' Baby Onesie Novelty T-Shirt
The ever-present Starbucks Siren sitting in the center of the black and green circle is there, but rather than the usual verbiage encircling the lovely siren, the words "Mom Needs Coffee" is written instead.
And boy, oh boy, no one needs a cup of coffee more than a new mom does.
The stylish outfit for the diaper set is painstakingly crafted by hand in the United States of America using a process involving heat transfer of the image, which allows the printing to actually embed itself into the very fibers of the material.
This makes for a permanent image that is maintained throughout repeated wearings and washings.
WHY WE LIKE IT?
Made from 100% soft and comfy superior quality cotton
Each onesie is crafted by hand individually using a heat transfer process
Proudly made in the United States of America
WHY WE dont LIKE IT?
None
What we love about this product
The onesie from Bargain Bella puts out the S.O.S. in an adorable but poignant fashion.
The soft cotton onesie has a three-snap closure for quick and easy diaper changes. It also features a changed-up version of the quintessential Starbucks Coffee Company logo.