Acupressure Mat: How Does it Work and the Best One to Get!
last updated:
Sep 24, 2019
1015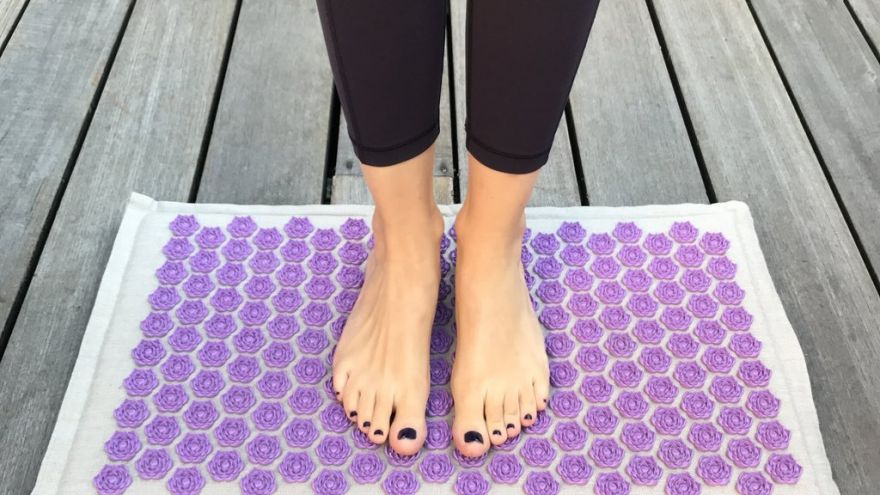 In this guide, we'll explore what an acupressure mat is and the pros and cons of owning one. We will also discuss our ten favorite acupressure mats that you need to get your hands on for the most immersive healing experience possible.
As a form of alternative medicine from China, acupressure is said to assist with promoting healthier Qi throughout your body. Known to be the universal life force that is present in everything, healing Qi is essential to mental and physical health.
Acupressure is one of the most popular forms of healing as it is said to help eliminate ailments that come about due to blocked or disrupted Qi.
What is an Acupressure Mat?
At first glance, these mats might seem intimidating. But, once you use them for the first time, you'll realize how essential they are to your overall health.
They are made in a variety of different ways, some have sharper needles than others, but they all serve the same purpose. By focusing on your pressure points, these mats are said to encourage the flow of positive Qi and the removal of negative Qi in your system.
On the surface of the mats, there are typically dozens of little discs that each have dozens of sharp, plastic needles.
To use an acupressure mat, you can either sit, stand, or lie down on the surface for anywhere from 20 to 40 minutes.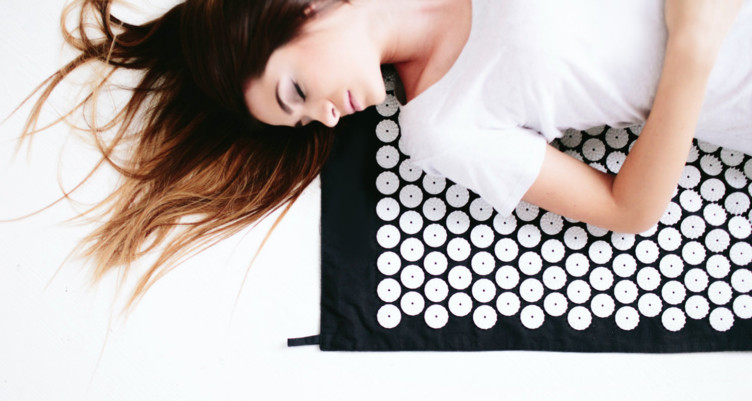 Even though you might think it sounds like a painful situation, those who use acupressure mats regularly swear that it's the most comfortable sensation in the world.
There are a lot of different claims you'll find online when it comes to these mats, especially from manufacturers who genuinely believe in the idea of Qi.
Many suggest acupressure can help you to achieve better sleep at night and to relieve the pain from headaches. Others may suggest that acupressure relieves high blood pressure and constipation.
What we know for sure is that these mats are a fantastic way to reduce the effects of chronic neck and back pain as well as regular muscle aches.
The Pros and Cons of an Acupressure Mat
Before you invest your money into an acupressure mat, you must consider their pros and cons.
✓

Non-Invasive
One of the main reasons as to why acupressure is popular is because it's one of the least invasive medical "procedures" you can go through.
Instead of having to rely on western medicine, regular visits to the doctor, or even hands-on treatments, you may be able to remedy an ailment at home.
For example, if you have a pulled muscle, you can use your non-invasive acupressure mat instead of taking oral pain medication. Even people who don't like the idea of full-body massages from a stranger can use these mats to their advantage.
✕ Doesn't Replace Traditional Medicine
With that said, if you fear that you are suffering from a severe medical condition, it is best if you rely on the help of a traditional doctor.
Although acupressure mats have an assortment of benefits, they don't replace traditional medicine in many ways. For example, if you have very high blood pressure, it is still recommended you take oral medication.
✓

Pleasant and Peaceful
Similar to getting a massage from a professional massage therapist, using your acupressure mat is an enjoyable and peaceful experience.
Even if you don't notice a significant change in your health, you'll feel genuinely more relaxed and calm. It's highly recommended as one of the best ways to combat stress, and it is easy to do all on your own.
The more experience you get with acupressure, the more effective the "treatments" will be.
✕ Limited Assistance
Overall, acupressure is a great way to help with muscle aches and headache pains, but it's not an all-in-one solution for every type of illness in the world.
It offers minimal assistance, especially in terms of serious ailments. As mentioned, it is always recommended you first visit a traditional doctor before using alternative medicine as your primary treatment method.
Our Favorite Acupressure Mats
Now that you know what acupressure is and it's advantages, you'll undoubtedly want to start shopping around for your very own mat. Below are our favorite options for all types of acupressure that are easy to use.
1. ProSource Fit Acupressure Mat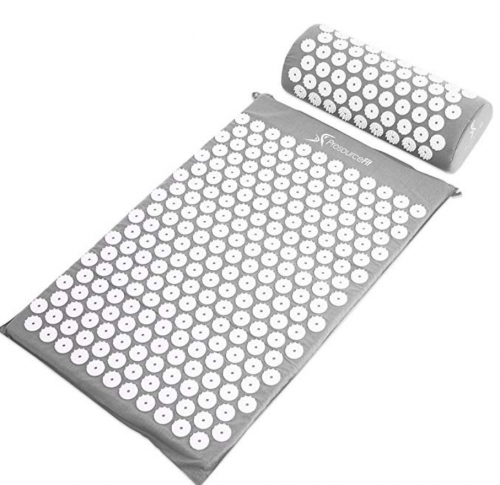 Price: $
The ProSource Fit Acupressure Mat is specifically designed to help with pain reduction, relaxation, and stress relief. By lying on the mat for up to 30 minutes, endorphins are released.
These endorphins help to block pain and relax your muscles. You'll undoubtedly be able to te a difference in the tension in your back, neck, and feet.
Compared to other acupressure mats, this model also offers optimal support, as you can fit your entire back on the surface of this model.
In your order, you will also receive a pillow that covered in acupressure points for optimal neck support.
The mat is constructed out of 100% thick cotton and has over 6210 acupressure points. The neck pillow has 1782 acupressure points, which is more than enough for full-body treatments.
2. Ajna Acupressure Mat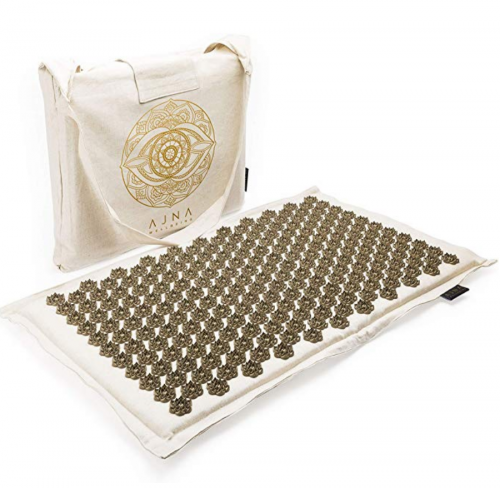 Price: $$
With a more traditional yet still ornate appeal, the Ajna mat is highly rated for eliminating sciatica pain and restoring your body to its pain-free and healthy condition.
There are over 5000 specially engineered acupressure points on this mat that will inspire your body's natural healing response to unblock energy pathways.
When you start using it for the first time, you'll immediately begin to feel more relaxed and less stressed. By using your body weight on your pressure points to improve blood flow, your mind will be more at ease.
You'll also experience comfort like never before. What we love the most about this acupressure mat is that it's made with mostly organic materials.
Handcrafted from GOTS-certified organic linen and filled with coconut fiber, you'll be giving back to the earth in a sustainable fashion.
3. Nayoya Back and Neck Acupressure Mat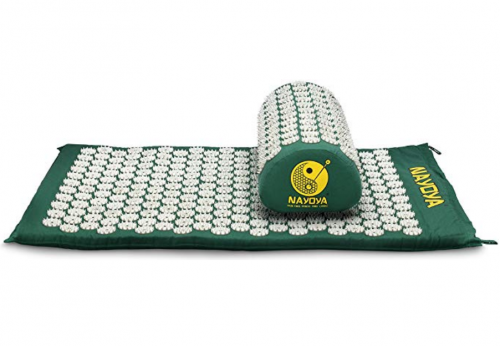 Price: $
The Nayoya Back and Neck mat is an all-inclusive package that comes with everything you need to target back and neck pain. It also arrives with its travel case so that you can bring the mat with you on your travels.
By using acupressure as little as 20 minutes per day, you'll be able to experience immediate relief in your back and neck. This relief could reduce your needs for a masseuse or massage therapist.
With it you can reduce aches and pains but also improve the blood circulation throughout your body. Improved blood circulation, in turn, helps to reduce toxins in your system which can be responsible for a variety of ailments.
You may also find that by using an acupressure mat and getting more sleep at night, you'll have increased energy levels and better moods throughout the day.
4. Wellness Collections Mat
Price: $$$
There's no reason as to why you should be living with back and neck pain when you have access to alternative methods, such as using an acupressure mat.
This model from Wellness Collections is one of our favorites as it is specifically designed to be far more comfortable than other mats on the market. This mat is one of the few acupressure mats that we could stand for longer than 20 minutes at a time.
The specially designed lotus spikes are combined with a soft 100% organic cotton pad that will help to penetrate your pressure points with ease.
There are over 6000 individual spikes that distribute your weight evenly so that you won't feel any excessive poking or prodding. We also love that once you're finished with the mat, you'll be able to zip it closed to prevent pet hair and dust from getting into the spikes.
As an added benefit, it is fully washable by hand. It comes with a large travel bag so that you can bring your alternative therapy with you anywhere.
5. Viva Living Homes Acupressure Mat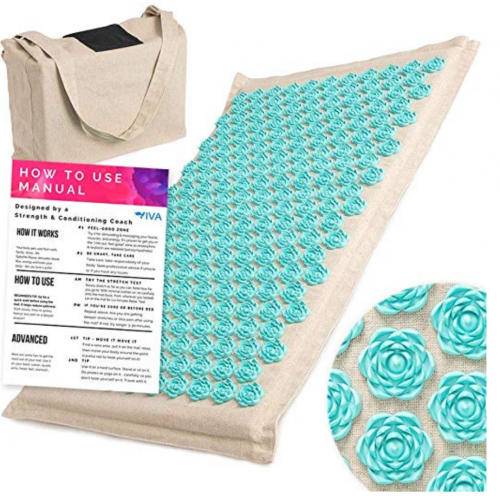 Price: $$$
If you're a beginner to the world of Qi and alternative Chinese medicine, this is by far one of the better acupressure mat packages to consider.
The Viva Living Homes option comes with everything you need. This includes an instruction card to teach you how to do acupressure on your own. It's a fantastic inclusive starter kit that you can use to understand the premise of acupressure and how it can help your body in numerous ways.
Along with the instruction manual, you will also receive the acupressure mat and a travel bag, both made from 100% organic linen.
The spikes on the surface of the mat are also specially designed to be deeper than others on the market so you can have longer-lasting results with less pain.
Designed with the help of strength and conditioning experts, this acupressure mat is a fantastic partner to have after a strenuous workout.
You'll be able to get rid of any soreness in your muscles for a faster recovery.
6. Elite Trend Set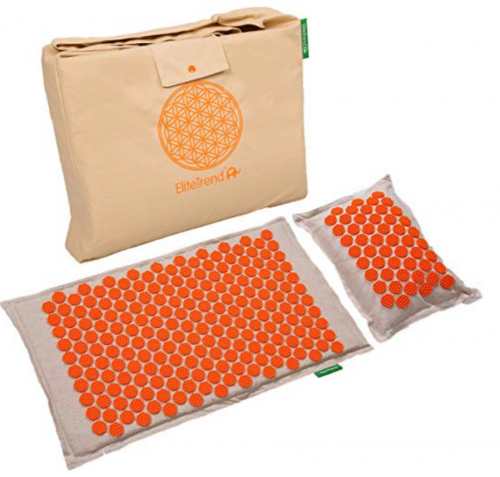 Price: $$$$
There's nothing better than having an ecologically-friendly acupressure mat to put to good use. The Elite Trend one is a great option.
There are three items included in this kit, which are the acupressure mat, a neck pillow, and the carrying case. Both of the acupressure items feature specialized spikes designed to emulate the flower of life design.
This design has six folded edges, similar to a hexagon, that is meant to simulate harmony. Instead of having traditional spikes, the folded edges act as the acupressure points, and there are over 4959 of them.
You'll certainly appreciate having a separate neck pillow to put to good use. This neck pillow will help to eliminate overworked muscles and general soreness in the neck area.
It's also small enough to fit in the included carrying bag, or you can bring it with you separately on a long-distance trip. By using this eco-friendly acupressure mat, you'll be able to live a healthier and happier lifestyle in no time.
7. Spoonk Acupressure Mat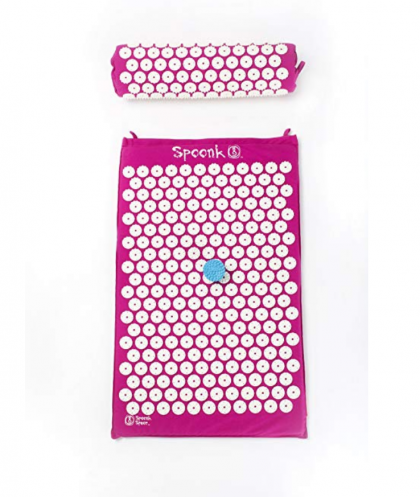 Price: $$$
This mat from Spoonk is by far one of the most popular acupressure mats we'll explore on this list, mostly because it has the most spikes for a thorough experience.
With over 6200 points for your body to enjoy, this mat isn't precisely what you have been looking for. It's also important to note that this set comes with far more than the regular acupressure mat.
With your order, you will also receive a travel size mat that can roll into a neck massaging pillow and a massaging ball as well. All of these accessories give you the ability to make the most out of your massages for the best experience.
Designed out of eco foam, the mat has the perfect number of acupressure points but also feels softer when you are lying down on it.
Each of the points targets your most sensitive areas to release bad Qi and to promote healthier blood flow to all of your extremities.
Once you are finished with it, all you have to do is roll it up and put it in its handy carrying bag.
8. VitaliZEN Extra Long Acupressure Set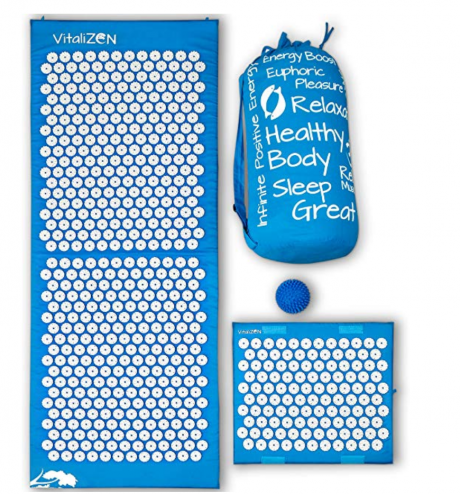 Price: $$$$
With all of the acupressure mats on the market, there aren't very many for full-body relief. The relieving feeling from using this mat is why we love the VitaliZEN Extra Long set.
It is 51" in length and boasts over 12,000 spikes that will work on all of the vital points over the entirety of your body. The VitaliZEN mat is by far one of the most comprehensive acupressure mats we have ever come across.
Also, you'll have a massage ball, travel-size mat, and a carrying bag included with your order.
With double the length of a traditional acupressure mat, you'll be able to focus on all of your points in one sitting. A long mat is also recommended for taller individuals.
Mostly because there are over 13,000 combined healing points on all of the tools included in the kit, furthermore, within 30 minutes, you'll be able to have superior blood flow all over your body.
Finally…
Acupressure is a unique way to improve muscle recovery and to help eliminate discomfort from overworked muscles and extremities.
By using one of these eight mats, you'll have the option of choosing alternative medicine over visiting your family doctor for muscle relaxants and more invasive procedures.
Pin for later